The X-mas factor: What makes a good Santa Claus?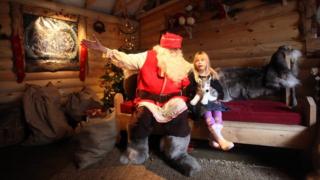 Grottos are an unavoidable festive tradition. But how do they choose the elves and Santas tasked with making Christmas magic? And what makes a good Santa Claus?
"I left some biscuits out for Father Christmas last year, but he didn't eat them. Does that mean he doesn't like me?"
It is not a question you would expect to be asked at a job interview, but the roles on offer here - two-month stints as grotto Santas and elves - are unusual.
Nor does the setting, a drab conference room above a shopping centre in Redditch, Worcestershire, seem like the obvious place to audition hopeful helpers.
After interviewer Mitchell McCarthy gets through the standard box-ticking questions about previous experience and personal qualities, his eyes widen and his voice softens.
"I want you to pretend I'm a six-year-old boy visiting the grotto," he says to Emma O'Brien.
In his newly-adopted guise he takes Ms O'Brien, 25, who worked as a grotto elf last year, to task over the uneaten biscuits.
"Of course Santa likes you," she replies, "but he has to go to so many houses, maybe he was full and couldn't eat any more."
Being Santa: Hazards of the Job
Keep an eye on your beard - in November 2012 an abseiling Santa got his beard caught while descending into a Reading shopping centre
Avoid too many drinks. Grotto Santa Michael Baim said changing out of costume to use the toilet is a "huge undertaking"
Bring reinforcements. Bodyguards had to be enlisted to protect a Santa Claus in the Black Country after stones were thrown at him
Know where your reindeer are. Mr Baim said children ask "without exception" as to the location of his faithful friends
Choose your transport wisely. Last week Santa upset children in a Welsh town when he was seen leaving in a police riot van after handing out presents
"Ah. Ok," says Mr McCarthy, his juvenile alter-ego satisfied.
Mr McCarthy is a recruiter for Great Grottos, a UK firm specialising in the Christmas attraction.
Although the real Santa is busy making presents in the run-up to Christmas, it is important children believe grotto stand-ins are a meeting with the real thing.
One of the key qualities in a prospective Santa or elf, according to Mr McCarthy, is being able to "think on your feet".
He calls this ability to field difficult questions from inquiring children "elaboration".
"If you give them a one-word answer they'll believe you for a minute," he said.
"But if you give them more detail, they'll believe you for a long time."
Mr McCarthy said it was also important for staff to be well-trained but not over-rehearsed.
"We just give them general tips to make the children feel at ease, like getting down on their level when they speak to them," he said.
"It's also important they don't make any big promises, like 'you'll definitely get an iPad on Christmas morning'."
The firm's director Matthew Wise said stamina was an important asset.
"It's a very tiring job and it can get quite repetitive - it's much harder than it looks," he said.
He said it was also important to have a "mix of personalities" in each grotto.
"You want someone very outgoing, someone who's very organised, and someone who's a leader," he said.
The firm, which employs 600 members of staff, including 230 Santas, across about 70 grottos, also looks for people with experience in customer service jobs for management positions.
"It's Disney out the front, but it's military precision behind the scenes," he said.
But what attracts people to these unusual roles?
Professor Philip Hancock, of the University of Essex's business school, released a paper last year entitled 'Being Santa Claus: the pursuit of recognition in interactive service work'.
He interviewed a number of 'elite Santas' - often jobbing actors - and discovered many of them found a deeper meaning in donning the red suit.
"Most of them had a genuine passion and belief in what the role could achieve," he said.
"Hardly any of them said they were just doing it for the money.
"Most of them did it because they genuinely felt they developed a sense of recognition by doing something worthwhile, bringing happiness to the kids and making it a magical experience for them."
Ray Hulse, 70, claims to be the UK's longest-serving Father Christmas.
This year will be his 52nd donning his home-made red suit, which he uses to raise money for Hope House children's hospice near his hometown of Bridgnorth, Shropshire.
Over the years, Mr Hulse, who has created a number of custom accessories, including a sleigh complete with 'SANTA 1' number plate, said "looking the part" was important.
"There are things I do which really make it special for the kids," he said.
"In the past I've had a reindeer the children could feed and I have a magic key on my belt which I tell them I use to open doors when there's no chimney."
The former tyre salesman, who has just added a portable, collapsible grotto to his repertoire, said he believed these "little touches" were key to the overall experience.
Michael Baim, 70, from Bedfordshire, who has worked as one of Great Grottos' Santas for the past three years, said he felt a "great responsibility" to provide a memorable visit.
"I don't just sit there with a big tummy and a white beard and a pom-pom on my hat," he said.
"My job is to give a child five minutes of pure magic, I try very hard to make them feel special. They are in Wonderland and they have to stay there."
But how do you make a meeting with Santa Claus into a magical experience? Among Mr Baim's golden rules, one of the most important is to treat children maturely.
"Don't talk to them as babies," he said. "Children are treated seriously when they come to the grotto, but we'll also have a good laugh or a sing-song."
Mr Hulse said he uses jokes to build up a rapport with children and their families.
"I ask the children if they have a real fire in the living room," he said. "If they say 'yes' I ask who lit the fire on Christmas Eve.
"Then I'll make a show of telling them off because I came down their chimney and got covered in soot. The expression on their faces is great."
"One of the most wonderful things to see is when a child comes in and their eyes are full of excitement," he added.
"I'm there to create memories for the children, memories they can one day share with their own children."