Hereford and Worcester Fire Service cuts two engines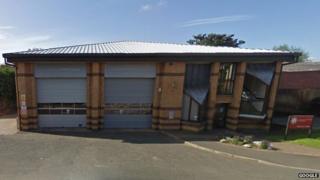 Hereford and Worcester Fire and Rescue service is to cut two fire engines from its fleet, with the loss of 38 full-time firefighters.
It had originally proposed to scrap 10 engines across the two counties and cut 44 jobs.
The Fire Brigades Union (FBU) said the decision, agreed at a meeting at Hereford Shirehall, was "disappointing"
Chief Fire Officer Mark Yates said the measures was a "significant improvement" on its original plan.
Fire stations at Ledbury and Tenbury Wells will lose a single on-call fire engine, leaving them with one each.
'Pyrrhic victory'
Mr Yates said the losses were "regrettable" but the service had chosen to focus resources on the cities of Hereford and Worcester.
The service had planned to cut the number of full-time crews at both stations from two to one.
Under the new arrangement the second crew will only work during the day, with night shifts covered by an on-call crew.
Local FBU chair Julian Jenkins said the compromises were "a very Pyrrhic victory".
"I feel as though we've lost a lot more than we've gained," he said.
"You're looking at a situation in Hereford where there will only be four full-time firefighters available."
The new arrangements leave the fire service, which is looking to make £5m of cuts over three years, with a shortfall of £240,000 per year.
Mr Yates said he would report back to the authority within six months to discuss future crew arrangements for its fire engines.