Stranger's kidney donation after Worcester newspaper plea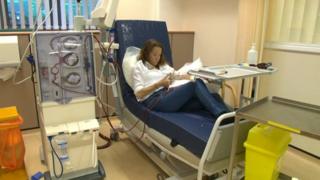 A woman who needed a kidney transplant has received an organ donated by a stranger who read about her illness in a local newspaper.
Sally-Anne Grainger, who has cystic fibrosis, described her kidney failure in the Worcester News in January.
Wesley Joyce, 33, read about the mother-of-two's illness, offered to be a donor and was later confirmed as a suitable tissue and blood group match.
Their operation took place at the Queen Elizabeth Hospital Birmingham earlier.
'Why not?'
Miss Grainger, from Warndon in Worcestershire, underwent a double lung transplant in 2009 but the medication required affected her kidneys and resulted in the need for regular dialysis and, ultimately, a transplant.
She told the BBC: "I have no words to describe my gratitude. I'm just so overwhelmed... I didn't expect, it [the donation] to happen, you know, it only happens in movies."
The Worcester News reported that Mr Joyce offered to be a donor after vowing to turn his life around having spent time in jail.
Mr Joyce, from Diglis, told the BBC: "I've taken enough out of life myself. I've got beautiful children, a beautiful partner, it's time for me to give something back.
"If I'm in a position - which I am - to give Sally her life, then, why not?"
It is expected Mr Joyce will have to stay in hospital for up to a week after the surgery.
Miss Grainger's recovery will take longer, with kidney function checks needed for a number of years.
University Hospitals Birmingham NHS Trust said it was delighted the transplant was going ahead but said it "would strongly discourage the use of media or social media in soliciting donors".
Instead it is urging people to sign up to the Organ Donor Register.