Wye Valley NHS Trust put in special measures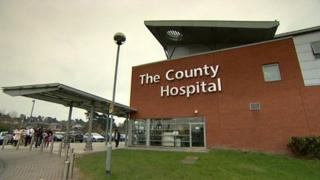 The trust that runs Hereford County Hospital has been put in special measures after it was rated "inadequate".
It follows visits by health regulator the Care Quality Commission in June.
The watchdog was particularly critical of medical care and A&E at Hereford, which it said was not always safe and "regularly breached" national targets.
Wye Valley NHS Trust, which manages the hospital, said it had faced "huge demands" on its services.
Chief Executive Richard Beeken said the hospital's capacity and practices had "not kept pace with the demand" and said an aging population was partly to blame.
Waiting on trolleys
The report's strongest concerns were reserved for Hereford County Hospital's emergency unit, with inspectors finding "no clear leadership", as well as insufficient staff and unsafe conditions, particularly at weekends.
It also said poor teamwork led to increased pressures on an already busy A&E and regular breaches of the national four-hour target for treatment.
During its visits, the commission found 16 patients had been waiting for more than four hours, with nine of them over 80-years-old, and five who had been waiting in the department for more than 12 hours on trolleys.
"There was insufficient space to assess and treat patients. This meant that patients were cared for in non-clinical areas where they did not have access to a call bell and their privacy and dignity were not always maintained," the report found.
Inspectors also said staff did "not routinely check patients", while there was "limited access to fluids and foods".
They described the management of medicines and the environment for children in A&E as "poor", while criticising the cleaning of both equipment and some areas of the unit.
Other areas of the hospital were rated as requiring improvement, including surgery, mortality rates, critical care, maternity and gynaecology, services for children, end of life care and outpatient care.
However, the report also praised some examples of "outstanding practice" at the trust, including "dedicated and committed staff who would go above and beyond the call of duty for patients".
'Council support'
Prof Mike Richards, the chief inspector of hospitals, said placing the trust in special measures would make sure a suitable action plan was put together and that progress was monitored.
Mr Beeken, who was appointed in the summer, said the Care Quality Commission's decision was "disappointing news for staff who regularly go the extra mile to ensure our patients receive the treatment they need".
University Hospitals Birmingham NHS Foundation Trust is expected to partner the Wye Valley Trust to provide support.
Meanwhile, Herefordshire Council said it worked closely with Wye Valley NHS Trust across a range of services and had confidence its new chair and chief executive "can lead the improvement at the trust that is needed", adding "they will not have to do it alone".
Graham Powell, chair of Herefordshire's Health and Wellbeing Board, said: "My cabinet colleagues and I are committed to making sure health and social care services for local people improve and become more efficient.
"I know that the council's chief executive and the directors of adult and children's services are already talking to managers in the Wye Valley Trust about ways in which we can assist."