Hereford United: Council in football ground repossession bid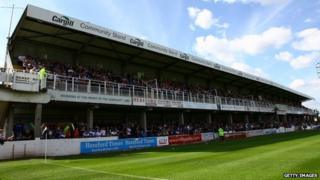 Herefordshire Council has attempted to repossess the Edgar Street ground from Hereford United Football Club.
The authority is owed about £48,000 in rent and legal fees from the club, which was thrown out of the Football Conference in June over unpaid debts.
A spokesperson said council officers failed to "peacefully enter the premises" on Thursday and will now take legal action to gain possession.
The club has declined to comment on the action by the authority.
In September, the council joined a HM Revenue & Customs court petition calling for Hereford United to be wound up, but decided to step up its action against the club when the hearing was adjourned.
"In light of the further six week adjournment, we decided to use other legal actions available to us as landlord," councillor Tony Johnson, leader of the council, said.
He said council staff were sent to take possession when they believed it would be empty, but assistant manager Neil Phelps was on site and refused them entry.
Mr Johnson said his aim was to enable a new owner to "make sure we've got continued sport on that ground".
"We want somebody in there that is doing what the terms of the lease and contract say," he said.
Martin Watson, from Hereford United Supporters' Trust, said: "The new owners of the club have had five months to find the investment that they promised.
"It still hasn't arrived and obviously the council has run out of patience."
The amount owed by the club, which now plays in the Southern Premier League, was declared on 30 September as £36,000 in rent and £12,000 in legal fees.