Future of Laight Rough butterfly woodland secured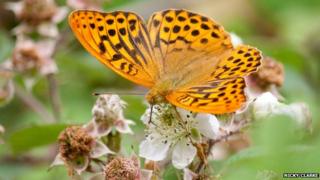 Two conservation groups in Worcestershire have secured the future of a small woodland for butterflies.
The Wildlife Trust and Butterfly Conservation have bought Laight Rough, near Grafton Flyford.
The seven-acre (about 3,000 metres sq) of ancient woodland, is already designated as a local wildlife site because of its importance for wildlife.
The adjoining Grafton Wood is the site of the Midlands' only colony of the rare brown hairstreak butterfly.
It is also important for other butterflies such as white admiral, white-letter hairstreak and silver-washed fritillaries, conservationist John Tilt said.
"Recent work in Grafton has also shown just how important it is for bats - both the rare Bechstein's bat and the scarce Brandt's bat have been found at the 300-year-old woodland," said Mr Tilt.