Tenbury Community Hospital unit plans overnight closure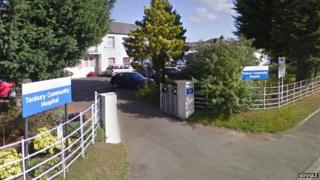 A minor injuries unit could close overnight in Worcestershire, under plans by the local NHS trust.
The department at Tenbury Community Hospital is currently open to patients 24 hours a day, seven days a week.
That could be cut to 09:00 to 21:00, according to Worcestershire Health and Care NHS Trust.
One of five such units in the county, the trust said Tenbury was treating an average of four to five patients a day, mainly during the day.
It deals with injuries such as burns, cuts and sprains.
Matron Jayne Brown said the hospital had also struggled to recruit enough specialist staff to staff the unit safely at night.
The NHS trust, which has launched a public consultation on the plans, said due to staffing problems it was relying on expensive agency nurses to operate at night.