Worcester Cathedral stone marks 2014 flood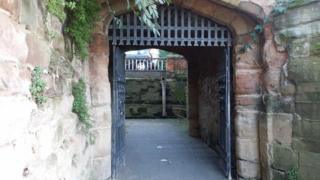 A stone marker recording the water level of the February floods has been added to a 14th Century gateway at Worcester Cathedral.
The water gate, on the banks of the River Severn, has stones marking the high water points since 1672.
Last winter Worcester was cut in half by floods and water at the gateway was 16.5ft (5m) deep.
The carved stone has been made by an apprentice mason working on the cathedral's restoration.
The new marker was made from Forest of Dean sandstone, the same type used in the cathedral restoration, by apprentice stonemason Emily Draper.
"It has been a real pleasure to look at the previous letter styles and to put my own twist on it and put it up into the wall," she said.
Worcester Cathedral water gate
The water gate dates from 1378 and gave access to the cathedral's monastic precinct
In medieval times the river was tidal, and the water gate would flood twice a day, creating a small dock where boats could unload
The highest flood level recorded at the gate was in November 1770
The water gate was refurbished and reopened for weddings at the cathedral in 2011