Herefordshire Christmas tree decorates Downing Street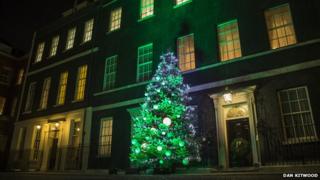 The Christmas tree outside the Prime Minister's residence has been lit up for the first time this season.
The 20ft (6.1m) Nordmann Fir took 17 years to grow and was transported from its Herefordshire farm in the early hours of Sunday.
Workers outside Number 10 Downing Street used a cherry picker to adorn the tree with baubles and fairy lights.
Colin and Davina Griffith provided the tree after winning grower of the year at an annual competition in October.
The couple, who own Dinmore Hill Trees at Festive Farm in Wellington, attended the ceremony and said the dressed tree "looked fantastic".
'Pull the other one'
Mr and Mrs Griffith also provided the tree in 2007 but were not as impressed with its decoration.
"That year it had red and orange baubles and lights on. It looked like it was covered in melons.
"This year, with the white lights, it looks more like snowballs. It looks much better," Mr Griffith said.
Three growers won Downing Street honours at the British Christmas Tree Growers Association awards, with Rob Morgan from Gower in Swansea providing a tree for inside Number 10, and Brian Taylor from Allensmore Nurseries in Hereford supplying the wreath for its door.
The transportation of the main tree was not without its hiccups, Mr Griffith said.
Because it was too large to be contained in a net, it was loaded on to the back of a lorry and strapped down.
"About three miles away from Wellington, the flat-bed got pulled over by the police to check the load.
"They asked where the driver was going, and when he said he was off to Downing Street, the police were like 'yeah, yeah. Pull the other one'."
How to spot the perfect Christmas tree
A natural shape
Dense foliage
Well sheared
A rich green colour
Not too wide, too tall or too thin
No stalks sticking out
Source: British Christmas Tree Growers Association