New Year Honours: Redditch foster parents appointed MBE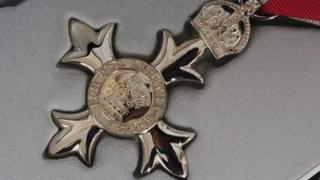 A married couple who fostered children for more than 20 years have received MBE medals in the New Year Honours.
Jillian and Brian Jones, from Redditch, were recognised for their services to children and families.
Other accolades in Worcestershire and Herefordshire include a damehood for Oremi Evans, the head teacher of a special educational school in Hereford.
Former chair of the Police Negotiating Board, John Randall, becomes a CBE.
Bryan Casbourne from Wigmore in Herefordshire, is appointed MBE for 13 years of service to his village, helping to open a community shop and giving business advice.
Mary-Rose Fawkes from Worcester, who works with people with lower limb problems, especially leg ulcers, receives a British Empire Medal.
Mrs Jones, who was a foster parent for 28 years, looked after more than 50 children, as well as the 10 she and her husband have between them.
She said that although the MBE was an honour, her main reward was the job itself.
"It was one of the best things we have ever done in our life. If I had my time again, I would do it all again".