Mercian Regiment's Bromsgrove parade led by ram mascot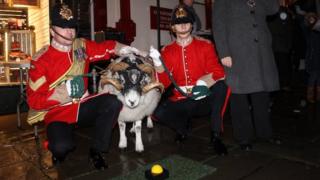 Soldiers from the Mercian Regiment will march through a Worcestershire town led by their mascot, a ram.
The Swaledale ram, called Private Derby XXX, will lead 100 soldiers and local army cadets through Bromsgrove from 13:00 GMT on Monday 16 February.
A stretch of road from St John Street to Market Street will be closed while the parade passes, the council said.
The regiment draws recruits from Cheshire, Derbyshire, Nottinghamshire, Staffordshire and Worcestershire.