Great Malvern Priory bells removed for restoration project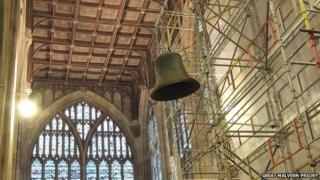 The bells from a historic Worcestershire church have been taken down as part of restoration work.
Great Malvern Priory's existing eight bells will be taken to Whitechapel bell foundry in East London to be retuned.
The foundry has already made two new bells to be added to the peal at the church, which dates from 1085.
A stronger frame will be installed in the belfry as the present one moves when the bells are rung. The bells will be returned in July.
The tenor bell, the heaviest of the existing eight, weighs 1,101kg (1.2 tons).
The priory was once part of a large monastery founded by St Wulstan, the Bishop of Worcester, shortly after the Norman conquest.
When the monastery was destroyed during the reign of Henry VIII the priory was saved by local people, and became a parish church.