Alexandra Hospital resignations: Calls for government intervention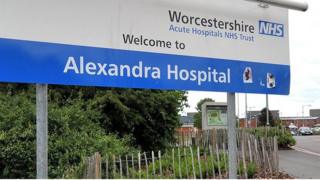 A patient pressure group is calling for the government to intervene after five Accident and Emergency consultants in Worcestershire resigned.
Four from the Alexandra Hospital in Redditch and one at the Worcestershire Royal Hospital quit on Friday.
The Save the Alex campaign group wants the government to replace the trust which runs both hospitals.
A government spokeswoman said reconfiguring front-line services was a matter for the local NHS.
Worcestershire Acute Hospitals NHS Trust confirmed all five consultants had been offered posts at Warwick Hospital "which is in the process of increasing its establishment to 10 to provide seven-day working".
A spokeswoman said none of the doctors would leave their current positions before May, and job adverts have been placed to recruit their replacements.
South Warwickshire NHS Foundation Trust, which runs Warwick Hospital, said it was "unable to comment".
The MP for Redditch has raised the resignations with the Health Secretary.
Conservative Karen Lumley said: "We have to make sure the government looks at what's going on, and I have written to Jeremy Hunt."
Alexandra Hospital, Redditch
Opened in 1985
360 beds
Serves a population of approximately 200,000
Worcestershire Royal Hospital
Opened in 2002
Built using Private Finance Initiative (PFI) money
500 beds
Serves a population of more than 550,000
The consultants' reasons for leaving are said to be "continuing uncertainty about the future of Redditch Hospital", according to BBC Midlands Today health correspondent Michele Paduano.
"I am reliably told that the relationship between management and consultants has completely broken down. They had identified problems in the department and solutions, but weren't listened to," said Mr Paduano.
Neil Stote, from the Save the Alex campaign group, said the resignations were a "damning indictment of the trust".
"We are calling for the government to intervene - for a different trust, one with a proven track record of recruiting and maintaining staff, to take over."
Worcestershire Acute NHS Trust, which runs the hospitals in Redditch and Worcester, said an urgent transition plan would be put in place and emergency care would continue as normal.
"We will be discussing the departure details with each consultant over the coming days, including the notice period to be served, " a spokeswoman said.