Herefordshire country park 'will be safeguarded'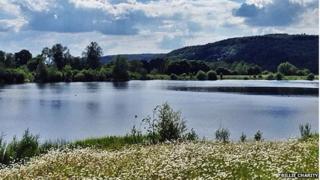 Two groups that plan to take over the running of a Herefordshire park and lake say both would be safeguarded from development under new management.
Herefordshire Wildlife Trust and New Leaf Sustainable Development, a charity, said they planned to take on a 99-year leasehold of Queenswood Country Park and nearby Bodenham Lake.
The park and the lake are owned by Herefordshire Council.
It said the "community asset transfer" would be subject to consultation.
If the transfer is agreed, the nature groups said they would develop woodland management and maintain Bodenham Lake as a "wildlife haven".
In a statement, the two groups said: "The partnership has confirmed, after discussion with Herefordshire Council - who will continue to own the freehold of the sites - there is no prospect of housing developments or the sale of land within the sites."
Evan Bowen-Jones, the trust's chief executive, said: "We look forward to working with local people to develop and implement an exciting program of wildlife enhancement and family activities at both sites."