Frank Freeman reunion: Clubbers who got their kicks on the A456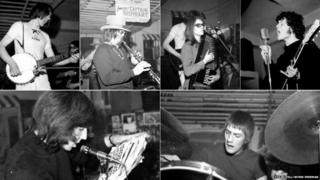 An unprepossessing Worcestershire dance school offering ballroom classes for beginners went from an establishment of formal elegance to a raucous rock and roll club which DJ John Peel described in 1963 as "the most amazing place".
Now, more than 50 years later, the crowds who gathered to watch Tyrannosaurus Rex, Fleetwood Mac and Captain Beefheart play at Frank Freeman's Dancing School in Kidderminster are having a reunion.
Run by a couple in their 60s, Frank Freeman and his wife Wynn specialised in ballroom dancing but needed to supplement their income, so started holding Sunday night sessions for up and coming bands.
On 30 April 1964 The Crestas performed - it was the first live rock 'n' roll band to play there.
Bigger acts followed. "We had Marc Bolan before they became T Rex," said Mrs Freeman.
"He used to be Tyrannosaurus Rex. But he didn't play his ordinary music; he had Indian pom-poms and Indian music then. A very good looking lad. He became number one."
John Peel, the former Radio One DJ famed for championing new music, called the set-up "utterly bizarre."
"Frank and his wife were both quite elderly, and they were making cups of tea and sandwiches for Beefheart," he once said.
Clive Selwood, an agent and promoter at the time, said it was these little details that Captain Beefheart enjoyed.
"It was one of his favourite venues," he said. "He loved the idea after the gig, Mrs Freeman would offer the bands cucumber sandwiches, which was hardly rock 'n' roll."
Robert Plant, lead singer of Led Zeppelin, was also a fan, performing there and even writing a letter of support to the local newspaper.
Mrs Freeman, who kept in touch with Plant until her death in 2008, said: "When we started rock n' roll, all the people in the town used to look down their noses at us. Robert told the paper 'if Mr Freeman is putting on rock n' roll, you can be sure everything will be good and the children will be looked after.'"
Mrs Freeman remembered: "John Peel was gob-smacked that a ballroom school played his type of music - he couldn't get over it. He was doing his afternoon show on the wireless at the time and used to give us a plug.
"He liked Frank. He said Frank was the nicest person he'd ever met and the crowd took to him."
In 1991, Mr Freeman collapsed and died at the club.
Organiser of the reunion, Dave Shuck, went to Frank's in the 60s and 70s "to decompress and let off steam" and described the events as "incredible times".
He managed to contact fellow audience members - some he had stayed in touch with, others he reached by putting an advert on Facebook. He specified people who wanted to go to the reunion, to be held at Gainsborough Hall in Kidderminster on Saturday, must be over the age of 55.
DJs will play some of the tracks performed during the club's heyday while original black and white photographs will be projected onto a wall behind them.
The club, on Mill Street, no longer exists. It is now a French restaurant. All that remains to mark the place where seminal bands of the 60s and 70s cut their teeth is a plaque erected by Kidderminster Civic Society.
Also surviving is a note written by John Peel:
"To Mr Freeman. It is good that you have this place of people to come, listen and dance. Thank you. X"