'Wet grass' affected brakes on plane report finds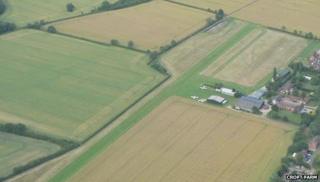 A plane suffered propeller and wing damage when the pilot veered off the runway to avoid trees, a report said.
The Cessna 152 got into difficulties during a landing at Croft Farm near Defford, Worcestershire, in November.
An Air Accidents Investigation Branch report said the plane's brakes became "ineffective" due to the wet grass.
It said the pilot was forced to steer into a field to avoid trees and a ditch at the end of the runway. No-one was injured.