New Hereford Football Club's Edgar Street lease agreed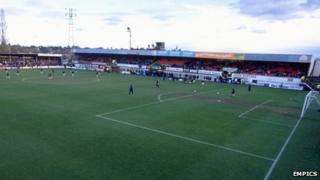 Herefordshire Council says it has agreed a lease for Edgar Street with the new Hereford Football Club.
The council and the consortium behind Hereford FC, led by Jon Hale, negotiated a short-term lease to run from March.
It means the club can register with the Football Association in time to ensure football returns to the ground for the 2015/16 season, the council said.
The ground has been unused since Hereford United was wound up last year.
The team played their final Southern League game there early last December.
'Passion and fervour'
Mr Hale tweeted the lease would be for five seasons.
"We've got our club back! 5 seasons and the Meadow End. Massive respect to @HfdsCouncil for their commitment to football at ES," he wrote.
Trevor Owens, Sports Editor for BBC Hereford and Worcester
After a long meeting yesterday, Herefordshire Council and the consortium behind Hereford FC finally thrashed out an agreement that will see the group take on the stadium and ensure the continuation of football there.
It is not yet known if any other group submitted an application but, on the face of it, this does seem the common sense decision. After all, the supporters' trust backed the Hereford FC proposal, so to award the leases elsewhere may have proved divisive. Hereford FC will know obtaining leases has been tough enough, but the hard work will start now.
A joint statement by Mr Hale and Chris Williams, Hereford United Supporters' Trust (HUST) chairman, added: "As a partnership we'd like to thank the local authority for its commitment to seeing football continue at this historic, much-loved stadium and we look forward to building a strong relationship with our landlord as the club moves forward."
Meanwhile Tony Johnson, Herefordshire Council leader, said the authority was delighted to announce Hereford Football Club were the new tenants at Edgar Street.
"The last few months have been fraught," he said. "There has been great uncertainty over the future of the ground and I am personally extremely pleased that we have been able to put an end to that uncertainty.
"We hope that the historic supporters of the club will welcome the news and support Hereford Football Club with the same passion and fervour as Hereford United."
Hereford United Football Club (1939) Limited was wound up by the High Court on 19 December. The winding-up petition was brought by HM Revenue and Customs, which is thought to be owed £116,000.