Passer-by rescues man from River Wye in Hereford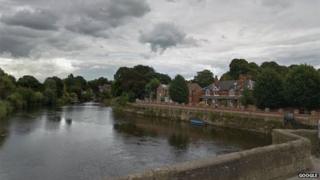 A passer-by who jumped into a river to rescue a man seen floating in the water has been praised for his bravery.
The man, believed to be in his teens or early 20s, was spotted in the River Wye, under Hereford's Old Bridge, at about 07:15 GMT.
West Midlands Ambulance Service said a man jumped over a fence and waded into the river to drag him out.
The rescued man is now being treated for hypothermia at Hereford County Hospital, the service said.
'Dragged him out'
The rescuer, believed to be a BT worker, used a lifebuoy from a riverside restaurant to haul the man to safety.
Rob Mitchell, operations manager at the Left Bank restaurant, on Bridge Street, said he arrived as events were unfolding.
"The rescuer climbed over our gates and used our lifebuoy," he said. "He went down the canoe steps into the river to get the guy out.
"Then the ambulance turned up and treated the rescued man in our car park, before taking him away on a stretcher."
In a statement, the ambulance service said: "We were called shortly after 7.15am today.
"On arrival, there was a hypothermic young man who had been pulled from the water.
"It appears his rescuer had to jump over a fence to get to the man, waded into the water and dragged him out.
"Had it not been for his actions, this could have ended very differently."