Austin Building in Worcester linked to Royal Infirmary again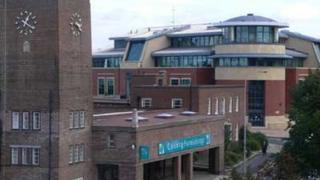 A link between two listed buildings has been renewed after the University of Worcester bought an art deco garage.
The former Austin Building in Castle Street was built on the site of Worcester's jail.
Opposite is the old Royal Infirmary, now part of the university's campus.
In the early 1800s, the bodies of hanged prisoners were taken through a tunnel to the Royal Infirmary, where they were used for medical practice.
The former car showroom and garage, built in the 1930s, was given Grade II listed status in 2012.
Its clock tower is a distinctive landmark in the city.
Most recently it was being used as a furnishings shop.
The University of Worcester said it will convert the building into teaching space.