Evesham's Abbey Bridge: Late completion penalties still not agreed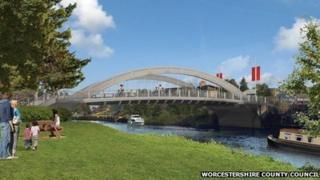 Penalties for the late completion of work on a Worcestershire bridge have still to be agreed by contractors and a council, a year after it reopened.
The £8m scheme to replace Evesham's Abbey Bridge began in September 2013 and over-ran by four months.
Councillor John Smith said he believes the county council is entitled to "around £200,000" but said a final amount has "yet to be sorted".
Contractors Hochtief said they had no comment on the negotiations.
The company had said weeks of work were lost because of poor weather and flooding.
Mr Smith said there have been "claims and counter claims" but negotiations are "moving forward".
"I'm sure at the end of the day we'll have to fight over this word or that word in the contract," he said.
"Most, if not all" of any money Worcestershire County Council gets from the contractor will go back into Evesham "in one way or another", he said.