Leominster's ancient food and ale taster posts revived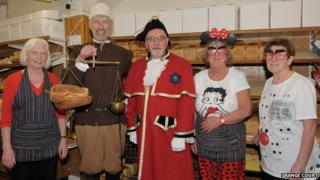 Ancient food tasting jobs dating back to the 13th Century are being revived in a Herefordshire market town.
Leominster Town Council want to appoint a fish taster, an ale taster and a bread weigher.
Town clerk Paul Russell said the posts would be "part civic, part street theatre".
"Essentially, they will be ambassadors for the town, taking part in events such as the annual food festival," he said.
The roles are unpaid but come with a free uniform.
Mr Russell said three tasters would symbolically test the wares of local traders and give out certificates showing they have been approved by the town council.
The authority said it hoped to appoint three people by May.
Bread weigher
Dates back to 1266
Was originally called the Assise of Bread
Originally responsible for checking the weight of half penny and one penny loaves
The weight of the loaves was set by the King and Parliament according to how good the harvest had been
Dick Ellison, from the Grange Court heritage hub in Leominster, said the role of bread weigher lasted until 1830.
There are records of people being taken to court in 1600 for not baking loaves that were the correct weight.
Fish taster
First recorded in 1564
Were appointed by the local Court Leet
First appointments were John Holland and Walter Cauldwell
Mr Ellison said their records suggest the men smelled the fish being sold in the town rather than actually tasting it.
The ale taster did sample the beer being brewed locally, and if they approved it they allowed the tavern to display a bunch of leaves outside.
"As the leaves got older they would curl up, which was quite a good indication of how old the brew was," Mr Ellison said.
Ale taster
First recorded in 1574
First appointments were Richard Mabelley and Harry Pinton
Payment was a gallon of ale at Christmas and Whitsuntide
In 1628, Thomas Bednedg was found guilty of selling a quart of ale for more than one penny