Alvechurch School coach crash: Driver gets suspended sentence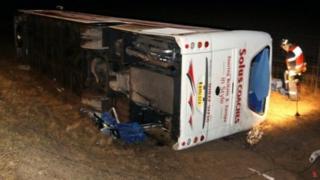 The driver of a school coach that crashed in France, killing a teacher, has received a suspended jail sentence.
Peter Rippington, 59, who taught at Alvechurch School in Worcestershire, died in the accident in February 2012.
Derek Thompson, 50, of Atherstone, Warwickshire, was found guilty of manslaughter and given a six-month suspended term by a court in Chalons-en-Champagne, north-east France.
More than 25 people were hurt when the bus overturned on the A26 near Rheims.
Steve Ratheram, 53, from Yardley Wood, suffered spinal fractures, a fractured sternum and broken ribs in the crash.
The former ski instructor said he felt for the wife and daughter of Mr Rippington.
"My initial reaction is that while I welcome the conviction, the sentence seems very light bearing in mind the seriousness of what happened," he said.
Irwin Mitchell Solicitors is representing 20 children, two teachers and two ski instructors who were injured in the crash.
Cheryl Palmer Hughes, their solicitor who was in court for the verdict said it had been "a long process" to find out what happened.
"What our clients wanted was an explanation of what happened and then also what people need to learn from what happened."
A court spokeswoman said a full written judgement setting out the court's detailed reasoning will follow "in the future".