Leominster and Ross-on-Wye hospital units to reopen after Easter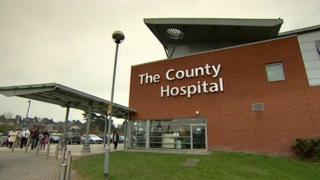 Two minor injury units in Herefordshire are set to reopen after staff were diverted to support an under-pressure accident and emergency unit.
Wye Valley NHS Trust closed the units in Leominster and Ross-on-Wye at the beginning of March due to "unprecedented demand" at Hereford's County Hospital.
It said the decision was important to ensure the safety of services.
Leominster and Ross-on-Wye minor injury units are due to reopen on 7 April.
Last week the County Hospital's A&E recorded some of the worst figures in England, with 76.6% of patients seen within four hours, compared with a national target of 95%.
In October, the trust was placed in special measures after being rated "inadequate".
The NHS trust said the current arrangements would remain in force over Easter as bank holidays were often busy periods.
It said 12 GP surgeries were also planning to remain open over Easter to help reduce demand on A&E.