Wellington church bids to move Natterer's bat colony outdoors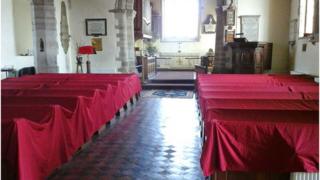 Roosting boxes have been fitted to the outside walls of a church so that rare bats can be persuaded to move from the inside of the building.
St Margaret of Antioch Church, in Wellington, Herefordshire, is home to a colony of Natterer's bats.
Reverend Michael Cluett said pews have to be protected with cloths to prevent them being covered in bat droppings.
He believes the bats may have moved into the church from barns in the area that have been converted into homes.
"Before the services we have to spend quite a bit of time cleaning the church to make it suitable for people who are coming here," he said.
Natterer's bat
Have light buff brown and black fur, which is white underneath. They have a bare pink face
Wingspan: 245mm - 300mm (10 - 12 inches)
Weight: 7g - 12g (0.24 - 0.42 ounces)
Population: 70,000 in England in 1995
Protected species
Source: The Bat Conservation Society