Colwall concert marks assistance dog's retirement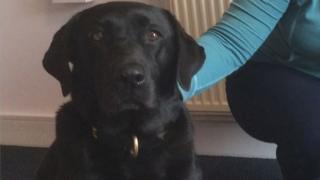 A concert is to be held in honour of an assistance dog who has retired after 10 years' service.
Kate Arnett said her black Labrador Ernie had enabled her to continue some hobbies, including playing with Worcester Concert Brass.
Mrs Arnett said the dog, which she credits for saving her life, had been the band's mascot "for years".
She said the event at Colwall Village Hall for Support Dogs will mark a "decade of sterling service".
Mrs Arnett, who needs an oxygen mask because inflammatory diseases have attacked her diaphragm, is helped in many ways by Ernie and her other dog Banjo.
Her husband Gavin added they retrieved items, such as keys and phones, and also raised the alarm if she needed help.
In March the two dogs licked her face until she woke up after her oxygen mask fell off during the night.
"We do think they saved her life," Mr Arnett said. He said his wife recently fell in a car park and Ernie helped again by going to get someone to help.
"He's very calm, steady, secure, loyal and loving and wants to do the best," he said.
The couple will keep Ernie as a pet while Banjo takes over his duties.