New Worcester fire station replaces ageing base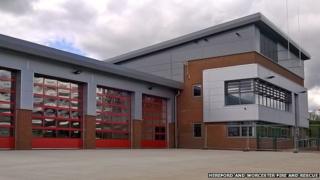 A new £4.3m fire station has opened in Worcester to replace an ageing base.
Crews have transferred to the new site at Great Western Business Park, from the Copenhagen Street base, which dates back 70 years.
Chief Fire Officer Mark Yates said the move would cut running costs and provide better training facilities, allowing crews to prepare for different types of fires.
A farewell parade at the old base took place at midday.
The Copenhagen Street site is expected to be put on the market.
Mr Yates said the fire service faced a bill of about £1m just to keep it running and described the new base a "fantastic improvement".