Men pose in Upton-upon-Severn Calendar Girls-style nude shoot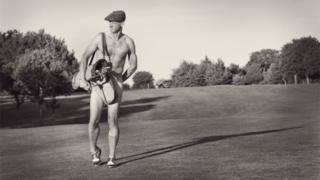 A charity calendar featuring nude Calendar Girls-inspired husbands and boyfriends has sold out.
The men "volunteered" to strip at the behest of those in the Women's Institute's Hot Peppers branch in Upton-upon-Severn, Worcestershire.
The idea came from a branch member to mark the WI's centenary, this year.
The calendar, raising money for the local GP surgery's Friends group, has sold out of its 250 print run since launching on 16 September.
A semi-nude calendar, released by the Rylstone and District WI in North Yorkshire in 1999, helped to raise millions for cancer research and their story was immortalised in the hit movie Calendar Girls starring Helen Mirren and Julie Walters.
Gemma Dewson, Upton-upon-Severn branch member and the calendar's photographer, said the response, particularly from women, had been "really good".
The 33-year-old said: "No men that I know of have bought it - yet."
Mrs Dewson said convincing their partners was easy in most cases although some required more persistence and a little alcohol.
"Some were forthcoming and others had a bit more persuasion to show all, but it was a really good response," she said.
Mr July, Rowan Thomas, 56, who is Mrs Dewson's father, said: "Luckily it was summer, so it was quite warm to get your kit off. Although the rose bushes were a bit prickly in places."
The electrical engineer said: "When it was originally suggested I talked a few of the other blokes into it, saying it would be a good laugh."
The branch was formed in June 2013 and its members decided the Hot Peppers name.
Calendars can still be ordered through the branch's website.