Worcester yarn-bombers forced to remove scarves for homeless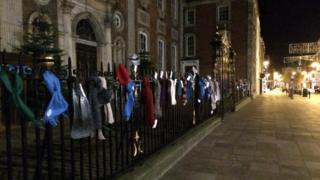 A group of "yarn-bombers" had to take down scarves they left out for homeless people after a council objected.
Knitters from the Project Wrap It Up group hung items from the gates of the Worcester Guildhall overnight.
They said the council told them it would give the wrong impression to visitors from China and ordered them to take down the knitwear by 13:00 GMT.
The council said the gesture was the wrong way to help rough sleepers but the yarn-bombers defended their move.
Carys Thurlby, one of the yarn-bombers, said she was "disappointed" to see them come down as the knitters were only trying to help homeless people during the colder weather.
She said the council told them if the scarves stayed up it "wouldn't give the right impression" to the visitors from China who were arriving for a meeting.
The scarves will now be distributed to rough sleepers by Maggs Day Centre.
Nina Warrington, a director with Worcester City Council, said they wanted rough sleepers to "engage with the right agencies" to help them find the right support.
"I think it's a really, really kind gesture, but the way the city council works is to support people coming off the streets," she said.
"This doesn't necessarily do that, [it] won't necessarily go to the right people."