Job cuts at Brintons carpet factory in Kidderminster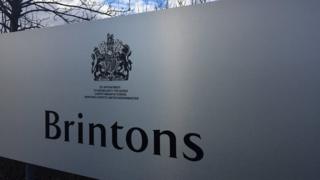 Brintons carpets has announced 65 jobs are to go from its Kidderminster factory.
A total of 43 people applied for voluntary redundancy during a consultation, the company said.
The firm, founded by William Brinton in 1783, said it needed to restructure due to increasing global competition.
Unions say they hope Brintons' parent company, the Carlyle Group, will honour its commitment to the tradition of carpet-making in Kidderminster.
More on Brintons and updates from Worcestershire
Rob Greenfield, Brintons group manufacturing and logistics director, said: "The restructure includes newer and more modern methods of production to ensure Brintons maintains and strengthens its position as one of the world's leading suppliers of bespoke carpets, bringing woven carpet manufacturing into the 21st Century."
At its height, Kidderminster's carpet industry included 25 factories and 15,000 workers, according to historians.
Today, many of the old factory buildings have been demolished and replaced by supermarkets and car parks.
Mike Hardiman, who worked at Brintons for 35 years, said the latest redundancies were another bad sign for the future of an industry that once dominated the town.
He said: "The loss of probably 15,000 jobs over 30 or 40 years is very, very difficult to handle."
Gavin Miller, from the Community Union, said: "The business case [at Brintons] says there is still a commitment to Kidderminster. I'd like to think the parent company of Brintons, Carlyle Group, will honour that commitment."