Hereford Cathedral's Medieval Mappa Mundi makes space debut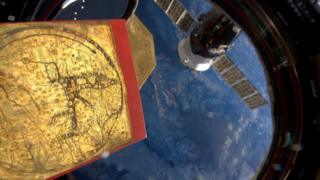 A copy of one of the world's oldest maps has made it into space with British astronaut, Major Tim Peake.
The 700-year-old circular map shows a Medieval Christian view of the world, placing Jerusalem at the centre.
Peake tweeted a photo holding a copy of it, saying: "A copy of one of the oldest maps in Britain, now exploring the newest frontier here in space."
Hereford Cathedral, where the map is kept, said it was notified earlier this week that it may appear soon.
Spokesman Glyn Morgan said the cathedral team had been in discussion with the astronaut since 2014.
More updates on this story and Hereford and Worcester.
"It's not an original - we haven't been shipping that up to the international space centre. But we let Tim have that some time ago as part of his cargo."
The map, which has been dated to about 1300AD and is made of calfskin, is kept on display at the cathedral.
It was added to the Unesco Memory of the World International Register in 2007.
Three astronauts, including Peake, took off from Baikonur, Kazakhstan, on 15 December for the space station where they will spend the next six months.
Among other possessions Peake has with him is a Stoke City FC flag, after lifelong Potters fan Andrew Rushton persuaded him to pack it.
---
The Mappa Mundi
Mappa Mundi means "world map" in Latin
Hereford's map shows Paradise, roughly where Japan would be, and the Garden of Eden
The map also shows more than 500 images from nature, history and classical mythology