Renate Spickenreuther wins burial dispute with late partner's children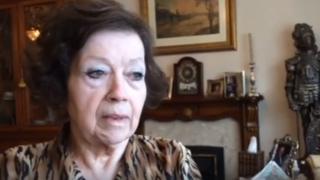 A woman has won the right to be buried next to her late partner after a four-year legal battle with his children.
Renate Spickenreuther, from Droitwich, Worcestershire, was in a relationship with Peter Hanson at the time of his death in 2012.
She contested his children's choice of gravestone and sought confirmation of his intention for her to be buried alongside him.
Mrs Spickenreuther said she was happy the matter had been concluded.
The Church of England's consistory court of the Diocese of Worcester heard the pair met when Ms Spickenreuther started working with Mr Hanson at his business.
For more updates on this and other stories in Hereford and Worcester
He was married at the time but later split from his wife and mother of his two children.
Mr Hanson's brother Bernard told the hearing the pair "were devoted to each other in every way" but were "saddened" by the rift their relationship caused within the family, especially as his son Mark, who worked with his father, had seen the relationship "evolve".
'Degrading gravestone'
After Mr Hanson's death in April 2012, aged 78, his son had a gravestone erected at St Augustine's Church in Droitwich without consulting Ms Spickenreuther and she subsequently sought legal help to change it.
She said part of the inscription that read "Three Cheers for Pooh!" - a reference to Mr Hanson reading to his children and grandchildren from the children's book - was "degrading".
"I felt it was out of order," Ms Spickenreuther told BBC News.
But in his ruling, Dr Charles Mynors, chancellor of the Diocese of Worcester, said all parties had now agreed a compromise on the wording and design and a new gravestone would be put in place, with the two parties sharing costs.
He also stated "the remaining space in the grave currently occupied by the body of Mr Peter Hanson be reserved for the body of Mrs Renate Spickenreuther".
Mrs Spickenreuther said she was happy the dispute had been concluded and she could "draw a line under it all".
"I hope that I will be able to at last now find some peace and have time to mourn."