Fire destroys Stoke Prior wax-recycling centre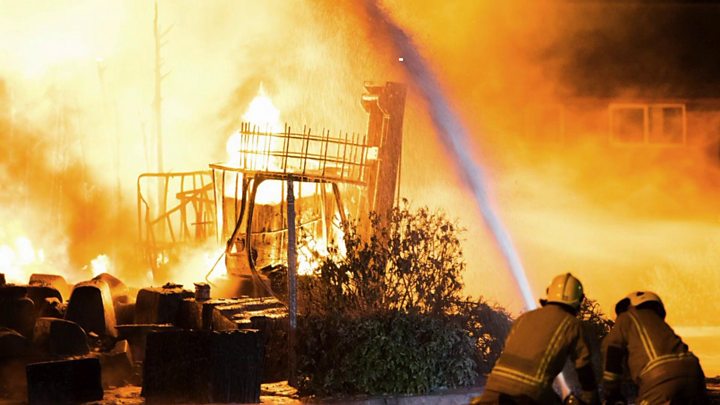 A major fire has destroyed a wax-recycling company at an industrial estate in Worcestershire.
An onlooker said burning wax ran "like lava" from Valan Wax Products, on Saxon Fields Business Park in Stoke Prior, near Bromsgrove.
Sixty-five firefighters were sent to deal with the blaze, Hereford and Worcester Fire and Rescue Service said.
Flames and smoke were visible from as far away as Malvern and the M5, but no injuries have been reported.
The fire started at about 18:30 BST on Monday. Neighbouring workers were evacuated and some businesses were also damaged in the incident.
More on this and other stories from Hereford and Worcester
Darren Packwood, watch commander for the fire service, said the cause was still being investigated and firefighters remain at the site.
Kevin Pearson, who works nearby, said he could feel the heat from the fire.
"It was an absolutely huge fire. I've never seen anything as big as that," he said.
"The scariest thing was that you were seeing the wax running down, and it was alight.
"It was just spreading, and the firefighters had to stand there to fight it back and try and push the fire back towards the building.
"It was like lava flowing down towards the next business estate."