Stone hurled through ambulance window in Worcestershire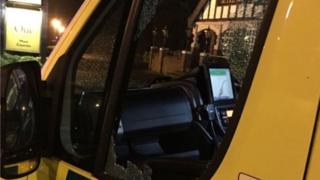 A stone was hurled at an ambulance, shattering a passenger-side window and showering the driver with broken glass.
The stone was thrown as the ambulance travelled along the A449 at Crossway Green, in Worcestershire, during the early hours of Sunday.
The ambulance was carrying an elderly patient with suspected cardiac related chest pains. A back-up ambulance was called to take the patient to hospital.
Witnesses have been urged to contact police.
See more stories from across Herefordshire and Worcestershire here
A paramedic support officer and officers from West Mercia Police attended the scene, near the Mitre Oak pub, but were unable to find the offender.
Emergency medical technician Steve Hopkins, who was driving the vehicle, said: "I remember seeing three lads, who were probably late teens, dressed in black who were walking towards Kidderminster.
"At the last minute I caught sight of the one in the middle throwing something and the next second the passenger window in the cab exploded, covering me in glass.
"I just can't understand why anyone would do something like this to any vehicle, never mind an ambulance."