How is Hereford High Town three years after Old Market opened?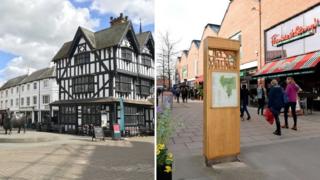 When England's last surviving inner-city cattle market was ripped down and replaced with shops, restaurants and a cinema, opinion was divided.
Some feared the new complex would be the death of the historic high street. Others hoped it would bring a new lease of life.
As the third anniversary of the transformation approaches we take a look at its impact on Hereford.
At the heart of the debate is a £90m, 310,000 sq ft centre named Old Market in a nod to the livestock auction that stood there for 154 years.
The cattle market lives on at a £7m 16-acre custom-built site on the outskirts of the city.
In its place is an open-air thoroughfare of big name shops, chain restaurants and a six-screen Odeon cinema.
Old Market created 1,200 new jobs and was named the UK's best new shopping centre.
Meanwhile, Hereford Market's move has been hailed a success story.
But the effect the move has had on Hereford depends on who you speak to and which side of the city you find them.
Jack Douet, 16, and Georgia Cooper, 17, are meandering along Garrick Street which runs through Old Market on their college lunch break.
"You had the die-hard farmers who wanted to keep the cattle market here but we're not missing it," said Jack.
"It used to cause really bad traffic and it was filthy and smelly.
"I much prefer it now."
Georgia agreed: "Before you would just come in, go to Primark and go home, there wasn't much else.
"I thought [Old Market] was going to be rubbish because it wasn't covered over but it's not. Now we go for meals or walk around the shops on our frees."
Jack added: "You definitely see more people, it's busier.
"You used to have to go to Cardiff or Bristol for any good shops."
A short walk away in High Town, Ray and Jean Ridley have been for a fish and chip lunch and are sitting on a bench in the sunshine.
"We love it here but the place has changed," said Mrs Ridley.
"There are too many charity shops and coffee shops and it seems to be run down.
"There's only Marks and Spencer that's any good.
"I don't think the new development is for the likes of us.
"The shops are all full of young clothes."
Mr Ridley said he believed Old Market was "detrimental to Hereford high street because it takes away a lot of interest from the town centre".
"There's that many shops closed it's unbelievable, it really is," his wife added.
"We used to love C&A and BHS but they've closed."
Widemarsh Street links Old Market and High Town.
"It was like a ghost town, it had 12 empty shops, now it has one," said Alan Anderson, Old Market's centre manager.
"It's our biggest entrance with two million people a year."
Footfall statistics for the week of 27 March to 3 April show Widemarsh Street had 20,000 visitors, while High Town had 32,000, said Mike Truelove, operations manager at Hereford business improvement district (BID).
The number of people visiting Hereford was almost 97,000, which is up 0.7% week on week when the national trend was down 0.3%, he said.
British Land, which owns Old Market, does not publish weekly footfall statistics but said its centre had six million visitors last year.
The city council says a £3m rejuvenation of High Town is part of its Hereford 2020 masterplan to improve the city.
"People who say High Town was looking a bit tired, yes they're probably right and we've listened to that," said David Harlow, Herefordshire Council's cabinet member economy and corporate services.
"What we are trying to do is create the same aesthetics in Old Market, through Widemarsh Street and into High Town.
"We are pedestrianising bits and making the brickwork look more upmarket and bringing in old fashioned signposts that point to places like the cathedral.
"When people see this other street looks and feels the same, we pull them into High Town."
"We are not trying to compete with High Town, it will always have its place in the city," said Mr Anderson.
"There was a lot of resistance [to Old Market], the perception was it would kill the town.
"But that attitude has changed massively."
Mrs Ridley said she believed Old Market was "good for young people" and Jack said: "There wasn't anything for us in High Town anyway."
Mr Truelove said: "The general feeling is that Old Market has helped Hereford to increase its offer.
"We've upped our shopping and casual eating offer so more people will come here to enjoy our race course, cathedral, museums, the black and white house and rural landscape set in a city. Hereford is definitely on the up."
---
This story was inspired by this question from a BBC News Online reader: "How has Old Market affected High Town?"