Eastham Bridge opens after listed crossing collapsed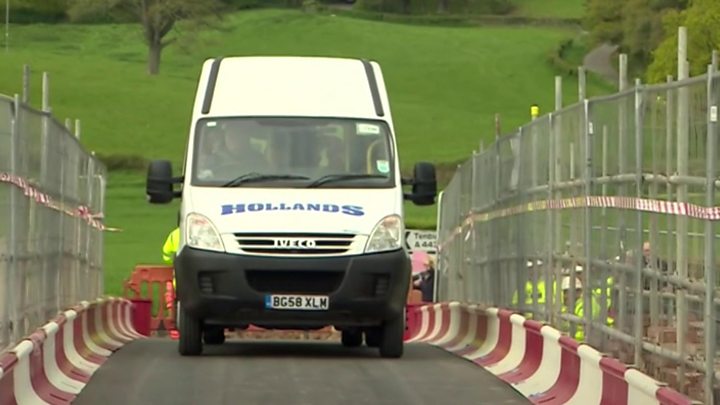 A new bridge has opened to replace an 18th Century one that collapsed moments after a school bus tried to cross it.
Drivers have faced a 10-mile detour since Grade II-listed Eastham Bridge, in Worcestershire, fell apart and its apex plunged into the River Teme.
Derek Trow, who in May 2016 reversed his primary school minibus off the bridge before the collapse, was the first driver on the new crossing.
The £2m bridge, near Tenbury Wells, opened to traffic in the afternoon.
Extra construction is continuing and is due to end in the summer.
Latest on new bridge opening, plus more news
Two pairs of steel beams, 33m (108ft) long and weighing 84 tonnes, were lifted across the river as part of the new bridge's construction.
Investigations showed the 18th Century original collapsed after fast-moving water undermined its piers.
Lorry drivers carrying tonnes of stones ignored weight limit signs and repeatedly crossed the bridge in the days before its collapse, it has been claimed.
Worcestershire County Council's member responsible for highways said those drivers had "chosen to ignore the advice".
Mr Trow was one of two minibus drivers who needed to cross the bridge to take pupils home from Lindridge St Lawrence Primary School, in Tenbury Wells, on 24 May.
As he drove on to it he saw the road give way ahead of him and managed to back up moments before the bridge crumbled and the apex collapsed.
Highways manager at Worcestershire County Council Jon Fraser said: "Everybody associated with the scheme has worked incredibly hard to get us to this position.
"I am sure the local community will welcome the reconnection of the village to the A443."