Leominster coins hoard returns home to Mr Treasure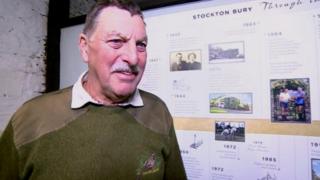 A hoard of 518 Roman coins has been returned to the Treasure family who own the site where it was discovered.
The 518 mixed copper coins have gone on display in Herefordshire, where they were found in 2013.
Raymond Treasure said staff initially protected the site by parking a tractor over it and telling people there was "probably an unexploded bomb" there.
Two off-duty paramedics with metal detectors found the hoard, thought to have been buried in a period of unrest.
For more on this and other Herefordshire news
Mr Treasure said the coins, which are about 1,700 years old, would be displayed at Stockton Bury Gardens, near Leominster, during the rest of spring and summer.
The coins, which have been declared treasure, were found by metal detector enthusiasts Martin Fulloway and Jeremy Daw, who will also get a cut of the value of the coins.
The full amount the coins are potentially worth has not been disclosed.
Mr Fulloway said they had to "dig down a good foot" to get to the coins, which were wedged under two large stones.
"Through archaeological excavation we were able to realise that they were stored in hessian sacks stuffed with leaves and then buried in a satchel - so they meant to keep it well hidden," he said.
Mr Daw added experts had said there was a civil war going on at the time and the Roman Empire was being broken up into several smaller empires.
"There's such a mix of these coins really with the general Roman Empire coins and also coins which were minted under these individual emperors," he said.
The British Museum, which has been examining the coins, said they were very well preserved.