Lost dog reunited with owner after three years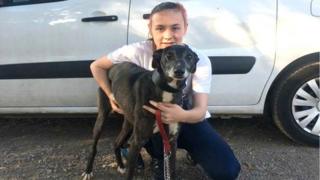 A dog found wandering in a country lane has been reunited with its owner three years after it went missing.
Dasha the greyhound disappeared in Derbyshire during the summer of 2014. Owner Jessica Miller claims it was sold without her permission.
The dog was spotted by a farmer almost 100 miles away in Herefordshire and has since returned home.
Ms Miller, who had used social media to find Dasha, said: "I genuinely believed I would never see Dasha again."
See more stories from across Herefordshire and Worcestershire here
Dasha was last seen in Alvaston, near Derby, and on 9 May was spotted wandering down a country lane in Staunton-on-Arrow, in Leominster.
Herefordshire Council enforcement officer Dave Poolton found the dog to be microchipped and managed to trace Ms Miller.
Mr Poolton said: "When I saw that the dog was last registered in Derbyshire several years ago, I naturally assumed that the microchip was out of date. Nevertheless, I called Jessica, and the first thing she did was burst into tears. I have to admit, I welled up a little myself."
Ms Miller was thrilled to be reunited with her dog and said Dasha had "been through the wars" and had a laceration on his front paw, but was now "on the mend".