Old Horsefair post office collapses in Kidderminster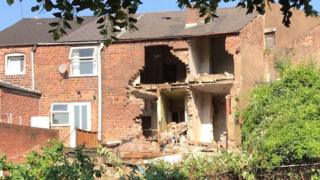 A building has partially collapsed in a Worcestershire town, causing road closures.
The collapse at the back of the old post office in the Horsefair, Kidderminster, happened at about 21:30 BST on Wednesday.
Hereford & Worcester Fire and Rescue Service said nobody was hurt.
Earlier, police closed the corner of the Horsefair and Radford Avenue and said structural engineers would be assessing the damage.
Read more news for Herefordshire and Worcestershire
Theresa Edwards, who lives, said: "My partner heard like a big bang and this gushing noise and obviously it was the whole building actually hitting the floor.
"I got up in the middle of the night and just (saw) all like blue lights and everything."
Eugenie Howard, who also lives nearby, said she did not know how many years the building had been empty for.
She said: "(The Horsefair) used to be a very good... area when I (was) a young kid.
"All the shops were going. We had pubs. We had two or three butchers. Everything was good."