Grimley Oval Raceway reopens after noise dispute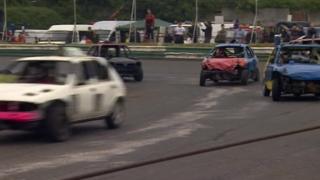 Stock and banger car racing has resumed at a track eight months after it was suspended due to complaints over noise.
Grimley Oval Raceway, near Worcester, held its first races of this year earlier after agreeing to conditions to restrict noise at the site.
Race marshal Chris Parry said they were "bending over backwards" to comply as they want racing to continue there.
Malvern Hills District Council temporarily lifted an injunction on the track after a hearing was postponed.
Some residents complained about the noise of the cars as well as hearing music and announcements on the loud speakers.
The council's conditions include checks on the noise levels of each car and restricting racing to between the hours of 11:00 and 18:00.
Mr Parry said: "We want to race and continue to do our activity in a way that respects the wishes of the residents and if that means we are not allowed to have music on the PA - we accept that."
Phil Merrick, from the council, said maintaining the track was part of its aim to grow the economy and improve tourism in the area, but they had to "balance that" with residents' concerns over noise and the environment.
A hearing to discuss the future of the track and the way forward will take place soon.