Malvern explosion: Man arrested and homes evacuated after blast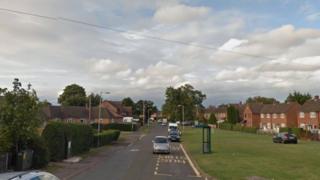 A man suspected of causing an explosion which led to people being evacuated from their homes has been arrested.
No-one was injured in the blast, which officers believe happened in Pound Bank Road, Malvern, Worcestershire, at about 21:50 BST on Monday.
Police found a suspicious substance at a house in nearby Langland Avenue.
A man aged 20 from Malvern was detained on suspicion of possessing an explosive substance. He was later released under investigation.
Police do not believe the blast is linked to terrorism.
The man arrested and the location were not connected to any terrorism-related matters, police said.
In a statement, the West Mercia force said whilst it was keeping an open mind, one of its lines of inquiry was "this was a case of misadventure, albeit with a criminal element".
The force did not say how many homes were evacuated but confirmed that no property was damaged.
Supt Kevin Purcell said: "Officers responded promptly to this incident to ensure the safety of local people. Initially we did not know what we were dealing with so we took every necessary precaution."
The police cordon has been lifted and people have been allowed to return to their homes.
Insp Gareth Lougher said: "We would like to thank people for their patience while we deal with this incident and we would urge people to avoid the area."
More on this and other stories for Herefordshire and Worcestershire
Gemma Lancett, who lives in the area, said: "We were sat on the sofa... watching the telly when we heard a big explosion which made us jump off the sofa.
"A lot of the neighbours were going out into the street because they heard it too so we went out.
"Then there was a police officer that came down the road to ask what we'd heard."