London Midland will not back prosthetic arm fundraising bid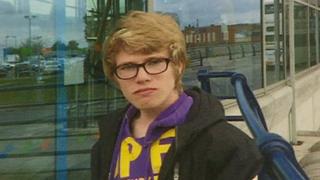 The parents of a 17-year-old who lost his arm after falling on to a track next to a moving train say they are "heartbroken" the rail firm involved will not back their fundraising bid.
Dominic Preece's left arm was amputated after he fell at Droitwich Spa in May.
His mother Kerry Holloway said London Midland would not support their bid to raise £40,000 for a prosthetic arm.
London Midland said the teenager had been involved in a "tragic accident" and investigations were continuing.
Dominic fell from the station platform when he was chasing after a train to retrieve a bag he had left on board.
For more on this and other Worcestershire news
Ms Holloway said she expected her son's learning difficulties would make it more difficult for him to cope with his amputation, adding he was "recovering slowly".
She said her son had been offered a "hook or claw" by the NHS, but needed a more sophisticated prosthetic arm to pursue his dream of working with horses.
Dominic had always wanted to become a jockey and now may run a school for disabled riders, she said.
London Midland representatives were initially "more than happy to help us", Ms Holloway said, but have since told the family the firm could not offer financial aid as it already supported several charities.
'Living his dream'
"I feel let down. But it's the let down for Dominic that's the worst," she said.
"Before the accident he had his whole life ahead of him. And he needs a prosthetic arm to carry on living his dream."
A London Midland spokesman said it appreciated it was a "very difficult time" for the family.
"We are keeping in regular contact with the Holloway family and have offered to help with travel and transport."
He added it "would not be appropriate to comment further" while the investigation continued.