Two teenagers rescued from river in Ross-on-Wye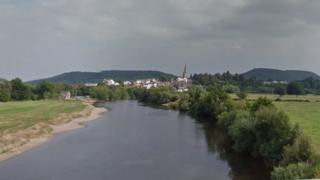 Two teenagers were rescued after getting into difficulty while swimming in the River Wye in Herefordshire.
They were among five girls who began to struggle in the water, close to Ross Rowing Club on Rope Walk, Ross-on-Wye at about 19:30 BST on Tuesday, West Midlands Ambulance Service said.
Members of the rowing club helped rescue the girls, aged 15 and 17, who were checked by crews.
The 17-year-old girl was was taken to hospital as a precaution.
See more stories from across Hereford and Worcester here
Ambulance service spokesman Murray MacGregor said: "Two members of Ross Rowing Club went into the water, while others used a rowing boat to get to the youngsters.
"In the meantime, one of the club's rescue launches was also launched.
"Three of the girls were able to get out of the water themselves. A 17-year-old girl was rescued from the side by the launch and a 15-year-old was rescued from the water by the rowing boat."