Head teacher asks parents for £40 towards textbooks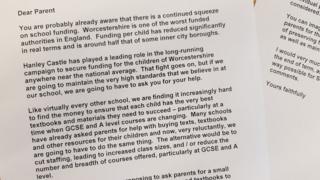 Parents have been asked to pay £40 towards their children's school textbooks after a head teacher said her budget had been slashed.
Lindsey Cooke said Hanley Castle High School in Worcester faced losing teachers or increasing class sizes if it did not receive more income.
She has written to parents asking for the voluntary donation.
The Department for Education said it was committed to giving all children a "world-class education".
More on this and other updates for Herefordshire and Worcestershire
"We have made all the efficiency savings we possibly can," Mrs Cooke said.
"We are really sorry to be asking parents for this help but I think it is important to say that it is a voluntary contribution."
She added that since 2013/14 income had fallen by 2% or £90,000 a year.
"Overall we are 12% worse off than we were in 2013/14 which equates to approximately £600 per pupil. This could fund 12 highly-skilled teachers each year," she added.
In June, the school was rated good by Ofsted but said more work needed to be done with disadvantaged pupils. Inspectors praised its "wealth of enrichment activities, including international exchange visits, music, drama and sporting opportunities".
Ms Cooke added: "We will manage because we have to manage, we can't have children coming to school and not put teachers in front of them but there is a bigger issue here.
"Schools can get by by reducing the number of subjects they teach and can increase their class sizes, but all of the time it chips away at the quality children are receiving."
One parent told the BBC: "I would be happy to contribute. If it's the choice of contribute or get rid of teachers then it would be better to contribute."
A Department for Education spokesman said: "We have consulted on a national funding formula for schools to make funding fairer.
"We received over 25,000 responses to the consultation, which we are analysing in detail and will respond to in due course."