Man deliberately drove car at policeman in Evesham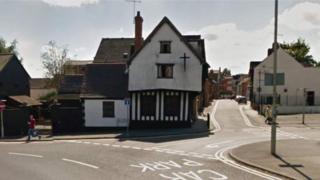 A man has been sentenced to 10 years in prison after deliberately hitting a policeman with a car.
Michael Park, 46, struck PC Paul Buffery on the junction of Chapel Street and Oat Street, Evesham, on 7 February.
PC Buffery was on foot patrol when Park deliberately drove toward him and knocked him to the ground.
Park denied attempting to cause grievous bodily harm but was found guilty at Worcester Crown Court.
He admitted failing to stop after a road accident, dangerous driving, driving whilst disqualified and using a motor vehicle on a road without insurance.
PC Buffery sustained minor injuries to his legs, shoulders and head, and was away from work for four weeks.
The court heard PC Buffery, knowing Park, from Evesham Road, Cleeve Prior, was driving while disqualified, stood in the road indicating for him to stop.
PC Buffery said: "Although I am saddened that this incident occurred and that this man meant me considerable harm for doing nothing more than my job, I am pleased with the result.
"I see the main part of my job as protecting my community and vulnerable people from harm."
The officer also said although his injuries were "relatively minor compared to what it could have been", the incident was "still a very unpleasant experience which will stay with me for life".