Tenant farmer has to leave his Herefordshire land after 14 years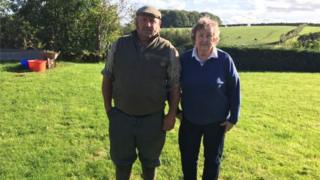 A farmer who has rented land in Herefordshire for 14 years will have to leave it later this year after his bid to buy his farm was unsuccessful.
Steve Clayton has farmed for 30 years and says he invested over £100,000 in the Rowlestone holding. He will have to sell off his livestock, he said.
Herefordshire Council is selling off its tenant farms saying it will use the money to fund struggling services.
Tenants will be supported throughout the process, the council said.
See more stories from Herefordshire and Worcestershire here
Mr Clayton said initially he was told it would just be a change of landlord and so he's "devastated" he has to leave.
He said: "Unless we can find another farm to rent, our livelihood will be over.
"We've probably invested well over £100,000 here and it's been a long hard struggle to do it.
"We just got into where we're sort of finding our feet and sailing along quite nicely but all of a sudden the mat's been pulled out from under us and our days of farming are over."
'Devastating day'
Mr Clayton and his wife Joyce have to leave their holding by 30 September.
The couple have over 80 cattle and 200 sheep and lambs which have all been home-bred over the course of 30 years.
Mr Clayton said it would be "a devastating day to see all our livestock sold".
In a statement, Herefordshire Council said: "A very small number of tenants will be adversely affected. Several tenants have been successful in bidding for their farms.
"Tenants' welfare will be supported throughout ensuring that their respective rights are protected."
The NFU has previously criticised the move.