Family's £10k fundraising bid for two-year-old amputee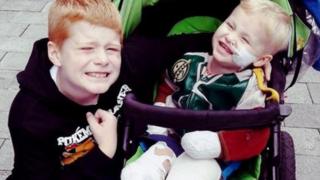 A £10,000 fundraising campaign has been set up for a boy who had his fingers and feet amputated after contracting a potentially deadly infection.
Finley Amos, from Hereford, contracted meningitis and septicaemia in June, which left him fighting for his life.
The two-year-old was put in an induced coma and spent 13 days in intensive care.
His father Matt Amos said he hopes the money raised will help Finley in later life.
See more stories from across Herefordshire and Worcestershire here
The 39-year-old said his son woke up on 2 June "floppy" and weak.
A doctor advised he be taken to hospital, where he was diagnosed and put into an induced coma.
'Heartbroken'
"We were told for the first three days he wasn't going to make it," said Mr Amos, of The Furlongs.
"We were panicking... heartbroken."
Finley contracted septicaemia - a common side effect of meningitis - and his fingertips and toes black.
"[When] we found out he was going to lose his fingers and toes it was like 'oh God', but at least he's still here," said Mr Amos.
The worst thing was Finley's mother, Sarah Bonner, having to sign a form saying medics could amputate, "which just broke her heart", he said.
---
What is meningitis?
Meningitis is an infection of the protective membranes that surround the brain and spinal cord (meninges)
It can affect anyone, but is most common in babies, young children, teenagers and young adults
It can cause life-threatening blood poisoning, known as septicaemia, and can lead to permanent damage to the brain or nerves
Source: NHS Choices
---
Finley had his left foot removed at the ankle, his right foot removed a third of the way up the shin and lost all of his fingers.
The family has a meeting later this month to discuss prosthetics and Mr Amos said his son is coping well.
"He is still a happy little boy. He is still getting around and getting up the stairs and is energetic and happy. People have said how inspiring he is."