Tap water ban in Tenbury Wells over contamination fears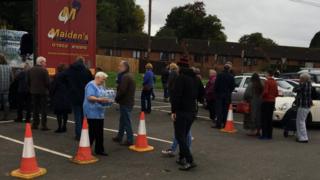 Home and business owners of up to 2,000 homes properties in Worcestershire are being warned not to drink their tap water over contamination fears.
Severn Trent said a small amount of floodwater got into a burst pipe in a field in Tenbury Wells on Friday.
The pipe is being disinfected and people have been told not to use the water for drinking, cooking or cleaning teeth for at least two days.
Free bottled water is being given out at two sites in the county.
Sarah-Jane O'Kane, from Severn Trent Water, apologised to residents and said they understood how "ridiculously difficult" it would be for people over the weekend.
The postcode areas affected are WR15 8 and SY8 4AU. Severn Trent said the ban was a precautionary measure.
Some customers are also having intermittent supply problems.
Free bottled water is available to collect from the car parks of Tenbury Community Hospital and Tenbury Swimming Pool.
Independent councillor Mark Willis, mayor of Tenbury Wells, praised Severn Trent for "getting the message out early" which was then shared throughout the town.
People had reacted very calmly, he said, and coffee shops and cafes had been working with the utility company to continue operating.
In a statement, Severn Trent said: "We're really sorry for the inconvenience this will cause and we'll be working around the clock to get the issue resolved as quickly as possible.
"However, we need to be absolutely sure that your water is great quality and so it may take us a couple of days before we can be absolutely sure."
If anyone has drunk the water and feels unwell they are advised to contact their GP.