Worcestershire child deaths prompt serious case reviews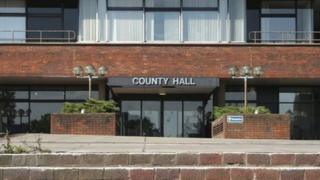 There are to be serious case reviews into the deaths of two children in an area where children's services are deemed so poor they must be run externally.
The reviews concern the death of a baby and a child suicide in Worcestershire.
The government said in September the county's "inadequate" child protection services must be handed over to another agency, though that has yet to happen.
An Ofsted report published on Thursday said "significant weaknesses remain".
A whistleblower at Worcestershire County Council, who is employed as a social worker, said staff were being asked to perform an "impossible job".
The reviews will look at whether social services, or other agencies such as the police or NHS, missed opportunities before the deaths of the two children.
'Serious failures'
Derek Benson, independent chair of Worcestershire's Safeguarding Children's Board, said the deaths were not necessarily symptomatic of failing children's social services in the region.
"There is not an immediate connection in terms of commissioning serious case reviews and the issues with children's social care and experience in Worcestershire," he said.
Children's services in the county were rated inadequate in January after Ofsted reported "widespread and serious failures" leaving children "at continued risk of significant harm".
Although Thursday's report said the council had "achieved some tangible improvements", services need "much further progress".
The whistleblower said work was "very demoralising".
"Morale is very low," the social worker said. "People are being asked to perform an almost impossible job.
"Caseloads are too high. I know colleagues who have caseloads in excess of 30 families... Staff just become overwhelmed."
The council declined to respond to the whilsteblower's comments.
Chief Executive of Worcestershire County Council, Steve Stewart, said: "Our staff are working really hard to improve the service.
"We know that we have a lot of work still to do to get to the stage where we are consistently delivering high quality services."