Carrington Bridge project wins £54.5m Government grant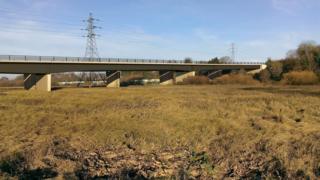 A government fund of £54.5 million has been secured to turn Worcester's Carrington Bridge into a dual carriageway.
The bridge between West Worcester and the M5 will be widened as part of the project to improve congestion on the Southern Link Road.
Work is planned to start in 2019 and finish in 2021.
Leader of Worcester County Council, Simon Geraghty, said it was 'fantastic news for Worcestershire'.
Midlands Live: Man stabbed in the neck in Tamworth; Van driver stops runaway bus
The link road project has already seen the A4440 Whittington Road turned into a dual carriageway from the M5 junction 7.
The next phase will include widening the road between Ketch and Powick, including Carrington Bridge.
Analysis by BBC Hereford and Worcester reporter Tom Edwards
The southern link road is one of the most congested routes in Worcestershire, with more than 30,000 vehicles using it per day.
It is currently undergoing a £45m pound revamp aimed at making most of it a dual carriageway, but until today that project was due to finish in 2019 without the Carrington Bridge being touched.
Worcestershire County Council made a bid to the Department for Transport earlier this year for £54m, arguing to ministers that without the cash, the bridge would have to stay as it is.
In recent months, lobbying has taken place with senior Government figures, resulting in Worcestershire winning the single largest award from a package of announcements nationwide amounting to £345 million.
It is widely expected to ease a lot of traffic problems in Worcester, Malvern and towards the M5, but could also spell a new house building frenzy, with land near the route being touted to developers for up to 5,000 properties.
Councillor Geraghty said: "It will complete one of the country's biggest capital construction projects, improve journey times and the reliability of the network."
Richard Udall, county councillor for St John's, welcomed the funds but argued that the project was "the wrong priority".
"We are simply building bridges and roads which will not take any more capacity," he added.
"What we really need to do is to complete the ring road around the city with a new bridge that will take through traffic out of Worcester."