Pet goat 'killed for satanic ritual', owner says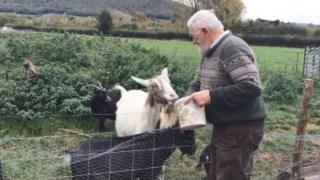 The owner of a pet goat whose head was "hacked off" fears it was the victim of a satanic ritual.
Disabled pygmy goat, Licorice, was found decapitated in her paddock in Tillington, Herefordshire last Tuesday. Her head has not been found.
A "clean cut" had been made to the nine-year-old's body and owner Don Coates said he could not understand how anyone could do such a thing.
West Mercia Police said it was investigating the circumstances.
Mr Coates told BBC News he had raised Licorice since birth when he realised she had a disability which meant she fell over if she "went round a corner".
He said he found her body when he came to feed his animals and began to think she had been killed "for some sort for satanic ritual".
Midlands Live: Neglected child forced to sleep in shed; Foodbank reports rise in demand
"My first thought was she had been attacked by animals," he said.
"On second thought, when I looked at her, it was a clean cut - no head. Where has the head gone?
"We searched round the field and around the boundary of the small holding. No sign of her head.
"People that have looked at it said 'that's a clean cut.' The man that came to collect the body said 'that's been hacked off.'
"I just cannot understand why someone would do this to a pet goat of grandchildren and great-grand children, and me."
In a statement, police said it was not known if the death was suspicious.
"The incident is believed to have happened sometime between 21:00 on Monday 16 October and 12:00 Tuesday 17 October and officers are investigating to establish the circumstances surrounding the death of the animal."